Priory Rehab is an alternative rehab centre you could visit. Please note, we are not The Priory.
Priory Rehab is amongst the best-known rehabilitation centres in the UK. They offer an array of services to those seeking recovery from drug and alcohol addictions, trauma, mental health issues, and eating disorders.
However, little is known about the costs associated with rehab at Priory, the available treatment options and cheaper alternatives to the Priory.
Find out more about cheap rehab costs here: https://www.addictiontreatmentrehab.co.uk/cost/cheap-rehab/
This blog post will cover Priory's rehab costs, what's included to help with sobriety, different treatment options, and cheaper options.
Alternatively, please get in touch with our team today if you require a cheaper rehab centre for you or your loved ones. Our team provide specialist care and evidence-based treatments at a cost that will suit you.
How Much Does The Priory Cost?
The cost of staying in The Priory Hospitals is £995 per night for inpatient treatment.
The cost of daycare programme starts at £290 for half a day and £550 for a full day.
Therapy costs differ depending on what is required.
One to one therapy for outpatients is £145 per hour.
Outpatient group therapy costs £113 per hour.
Please note, costs may be outdated and the best way to get an accurate cost is visitng The Priory website and contacting the team.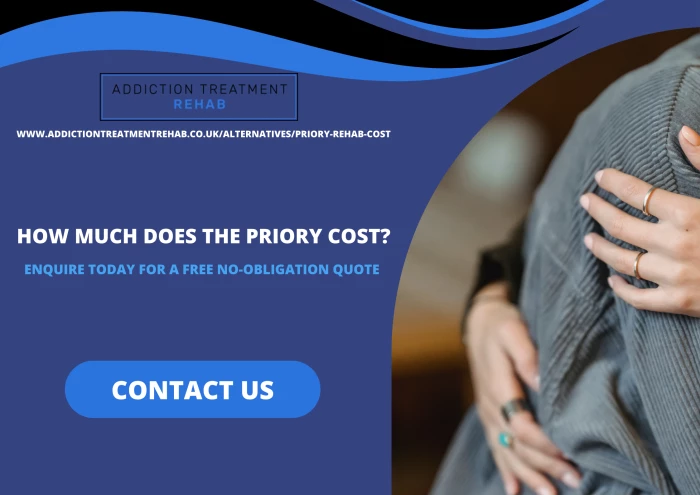 If you require a 1-1 session with a psychologist within the outpatient treatment services, you would be looking at £165 per hour.
The costs of Priory Rehabilitation can vary greatly depending on the level of care and individual requirements.
Priory prices also change year on year. Therefore, contacting your local Priory centre is best to discuss options and the Priory rehab prices to date.
What to Expect from Priory Rehab Costs and Treatment Options
​If you have been searching for the cost of rehab provided by the Priory rehab, you have come to the right place.
Treatment options will vary depending on what is required, but the most common treatments include:
Inpatient treatment

Outpatient visits to the rehab clinic

Family therapy

Group sessions

1-1 Counselling sessions with a therapist

Admission to a private hospital if required

Mental health treatment - this could be holistic therapy or medication

Home detox
The costs of outpatient treatment services will vary depending on the treatment services you endure.
If you are looking for a reputable company that offers all of these services and more at lower rates, please make sure to get in touch with our team today.
What is Priory Rehab?
The Priory Rehab has been a UK-based independent addiction treatment provider for over 30 years.
Founded in 1985, The Priory Rehab offers a range of evidence-based therapies supported by specialist teams and post-treatment aftercare.
Treatment options vary depending on the individual's needs and can include residential rehabilitation, outpatient programs, support groups and more.
The Priory Rehab generally accepts private healthcare insurance, and the NHS may provide funding for more complex cases.
Residents have access to the latest medical technologies, therapies and treatments, as well as multidisciplinary teams of specialists in mental health, general medicine, psychology and psychotherapy.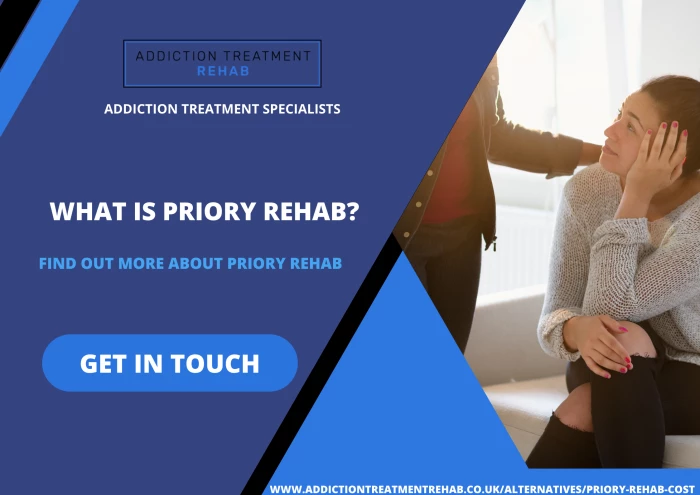 In addition, Priory Rehab also provides well-being services and physical activities such as yoga and sports to help residents achieve their mental health goals.
On the one hand, Priory Rehab is highly acclaimed for providing effective treatment options and ensuring that residents have access to the best medical care available. But on the other hand, some criticise Priory Rehab's costly fees, which can be difficult to fund without the right coverage or financial help.
The Cost of Priory Rehab
The Priory Rehab cost will depend largely on the length and type of treatment plan recommended for an individual.
The price also varies from location to location, as some areas may have slightly different services or inclusions included in the program. The Priory Rehab prides itself on providing access to excellent private care, which is reflected in its prices.
How Much Does The Priory Cost Per Week?
On average, a stay at one of their treatment centres may cost between £1,000 to £2,000 per week.
However, as with all treatments, prices can go higher depending on how intensive the treatment plan is.
This includes various therapies available, including
Psychotherapy

Counselling

CBT (cognitive behavioural therapy)

Dialectical behaviour therapy

Any additional medical services required
Other costs will also include meals, medication, and other amenities which can be part of an individual's rehab plan.
Some argue that this cost is worth it compared to NHS treatment options which may deliver a different level of personalised care and quality than private care offers.
Others may disagree, saying that these high costs put rehab out of reach for those who need it. Ultimately, whether or not it is worth it comes down to individual circumstances and a person's opinion on what constitutes value for money.
Treatment plans differ depending on each person's individual needs, so it is important to understand what is included in the cost before committing to a particular rehabilitation package.
Having discussed the financial implications of Priory rehab addiction treatment programmes, we now consider private vs insurance treatment options.
Private vs Insurance Treatment Options
Regarding treatment options and costs associated with Priory Rehab, there are two main routes to explore – private and insurance. Therefore, it is important to consider both options carefully to decide which solution will better suit your needs and financial situation.
Private treatment options provide the most choice for tailored treatments and can generally be more expensive in terms of outlay.
If you choose a residential rehab (such as Priory or Addiction Treatment Rehab), the rapidity of results can offset this expenditure.
In addition, inpatient rehab facilities like Priory often offer dedicated staff and a supportive environment away from home, which can be beneficial when attempting to reduce the symptoms of addiction or mental illness like anxiety or depression.
On the other hand, insurance treatment options tend to be less costly in terms of overall outlay and provide access to many coverage options, dependent on individual insurance policies.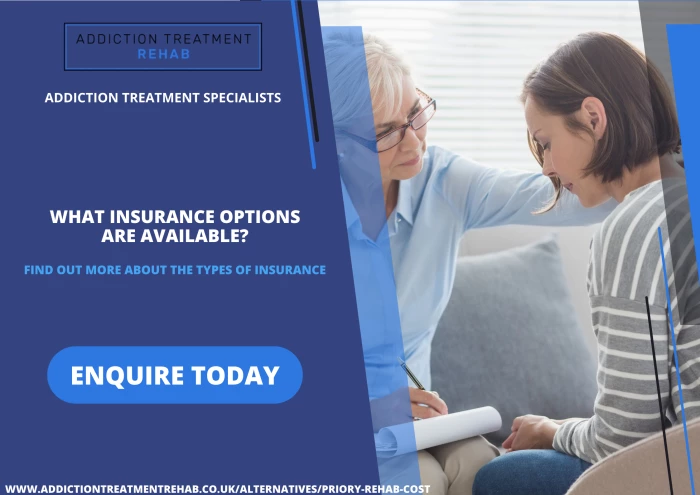 Additionally, a policy plan can cover outpatient services such as counselling or therapy. This route typically offers protection and uninsured cap levels that would otherwise incur additional costs if not covered under insurance.
Ultimately, each potential customer will have to weigh their financial and personal situation while considering any applicable recovery timescale expectations when deciding between private and insurance-based treatment plans.
Moving forward, we will investigate which price point best suits those who have opted to take the Priory Rehab route; finding the right price point is essential for successful recovery outcomes.
According to a 2019 report from Private Healthcare UK, the average cost of a private stay at The Priory is £3,582 per week.

A study published in 2016 found that adults spending 7 to 10 days in an addiction treatment programme showed greater improvements and cost savings than those receiving care in intensive outpatient programs or traditional community-based services.

The Priory Group and the National Health Service reported in 2017 that demand for private mental health services is increasing due to growing waiting times within NHS services.
Finding the Right Price Point
When considering the cost of rehabilitation at a private treatment facility, it's important to look for a price point that suits your budget without compromising on the quality of care.
When selecting a rehab facility and making financial decisions, you'll want to consider how the costs and program options fit your situation.
Making sure you are getting value for your money is essential in finding the right price point and maximising the benefits of a successful treatment program. Our Addiction Treatment Rehab centre can provide the very best value for money regarding addiction treatment. However, we are happy to provide information on other rehab centres too.
While cost should factor into the decision-making process, it shouldn't be the only consideration. Quality should be just as important as budgetary concerns.
Make sure that the rehabilitative program meets your individual needs and has all the necessary elements for successful recovery. Look for trained facilitators in the latest methods and research-backed approaches to addiction recovery.
Additionally, certain amenities may be available at certain facilities that offer better therapeutic opportunities or comforts that come at an added cost.
Evaluate these factors carefully when choosing a facility, taking into account what is essential to your overall well-being as opposed to comfort that isn't necessary for success in recovery.
No one wants to pay more than necessary for an effective program that assists addiction recovery. However, settling on a cheaper option could mean removing those elements crucial to a successful rehabilitation experience.
Experienced Providers at Priory
Priory is known for its experienced staff of professionals who specialise in helping people with the following:
Substance abuse/drug use, Priory can help with addictions to different types of substances, including cannabinoids, marijuana, mushrooms, edibles, cocaine, heroin and more

Alcohol use disorder

Sex addiction problems

Other behavioural problems such as gambling addiction, food disorders and obsessive compulsive disorder (OCD).

Mental health issues

Autism

PTSD

Insomnia

Depression, self-harm and anxiety
Priory offers tailored plans, with the team consisting of psychiatrists, psychologists, psychotherapists, therapists, nurses, occupational therapists, social workers and other professionals.
They all have extensive experience in helping people with mental illness and addiction, and they strive to create individualised treatment plans that can meet the needs of each patient.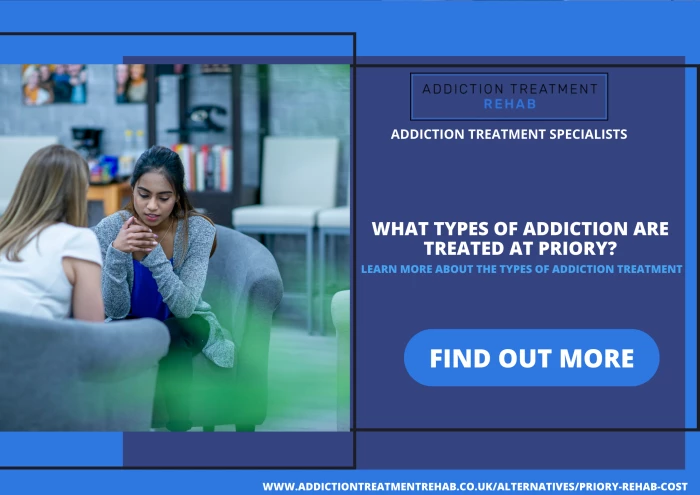 It is also important to note that while a care provider's experience may be invaluable when it comes to treating complex conditions like addiction or mental health issues, some experts argue that Priory's staff may lack the kind of specialised knowledge needed to diagnose and treat more difficult cases efficiently.
Therefore, it may be worth considering additional consulting services from outside providers specialising in particular mental health conditions, such as specific addictions, post-traumatic stress disorder, and eating disorders like bulimia nervosa, binge eating disorder and anorexia nervosa.
On the other hand, many Priory staff members are internationally recognised for their expertise and have been awarded for their work in creating holistic therapies with proven success rates.
Additionally, experienced psychologists at Priory have received numerous awards from organisations such as The British Psychological Society and The Royal College of Psychiatrists for their pioneering research and innovative methods.
Priory's experienced providers can offer comprehensive and personalised care that sets them apart from other rehab centres.
In addition, patients will benefit from the unique blend of conventional medicine and innovative treatments found at the facility.
Next, we will discuss how these experienced providers tailor individual care to meet the needs of each patient - a key component in successful recovery - in the following section about individual care and support.
The Priory Rehab Alternatives
There are a number of alternate rehab centres to choose from, these include:
We can also offer help with patients looking for luxury rehab centres. For more information, please click here: https://www.addictiontreatmentrehab.co.uk/cost/luxury-rehab/
The Road to Recovering at Priory
The road to recovery at Priory depends on the individual's unique needs and commitment to achievement.
Depending on the type of treatment necessary and the diagnosis, this journey could be very difficult and requires dedication and perseverance.
However, the ultimate result for many is a new life – achieving a healthier, happier self.
There are various treatment options available at Priory that need to be considered before embarking on this journey. These can range from private counselling and therapy sessions to care programmes or inpatient rehabilitation.
Priory also supports families and friends who may be affected by an individual's condition.
This includes meetings with trained counsellors who can provide them with guidance and advice, as well as assistance in understanding the individual's needs so that they can provide appropriate assistance at home.
In some cases, recovering at Priory may require significant lifestyle changes to recover fully. This could include individuals quitting smoking, eating healthier foods, restricting stress levels and participating in physical activities all contributing to relapse prevention.
For those committed to making these changes, Priory has resources that can help, including nutritionists and physiotherapists who can provide advice and guidance on developing an improved lifestyle plan.
Although there is potential for improvement after seeking treatment at Priory, it is important to remember that recovery can take time and effort and might take quite some time, depending on the nature of the issue.
Furthermore, progress depends upon individual motivation throughout the process.
Some people may find clinging to old habits or behaviours extremely challenging, so dedication and perseverance will be necessary to achieve long-term success.
Additionally, ongoing support from family members or peers can instil a sense of hope and positive reinforcement during recovery, encouraging further progress towards success.
Frequently Asked Questions and Answers
Are There Any Payment Plans or Discounted Rates for Priory Rehabilitation?
There are payment plans and discounts available for priory rehabilitation.
Many private insurance companies offer programs to cover some or all of the costs associated with priory rehab, depending on the individual policy.
Additionally, some Priory rehab centres may provide discounts for those who meet certain criteria, such as receiving public benefits or having a low income.
Some centres even offer sliding scale fees based on income level to help more people access treatment.
Lastly, specialised financing options are available from many organisations that provide loans specifically for people who need access to substance abuse treatments and services.
Where is the Priory?
The priory has a number of rehab centres across the UK, including:
The Priory Liverpool

The Priory Roehampton

The Priory Glasgow

The Priory Chelmsford

Priory Hospital Southampton

The Priory Edinburgh

Priory Hospital Barnt Green

The Priory Manchester

The Priory Hayes
Are There Any Insurance Coverage Options for Priory Rehabilitation Costs?
Various insurance coverage options are available for Priory rehabilitation costs.
Many major health insurance providers offer coverage for mental health treatments, including inpatient and outpatient services at Priory Rehabilitation Centers.
Insurance plans may cover some or all associated costs depending on the type and extent of care needed. Additionally, if you are a member of the UK Armed Forces, you may be eligible for additional coverage through the NHS Veterans Mental Health scheme.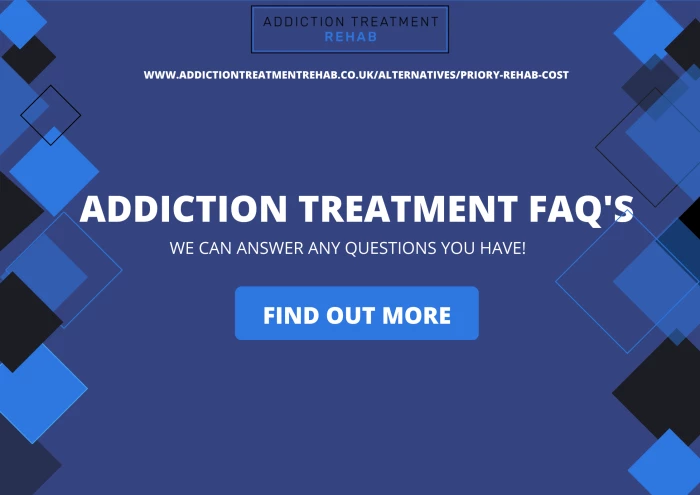 What Factors Affect The Cost of Priory Rehabilitation?
The cost of priory rehabilitation is affected by a variety of factors, such as the type of treatment program chosen, the duration of the program, the location of the facility, and whether any special services or amenities are requested.
Type of Treatment Program: Different treatment programs will vary in cost depending on what therapies are offered, along with the length and intensity of the treatment. For example, an intensive outpatient program may require more visits than a simple outpatient program, resulting in higher treatment costs.

Duration of Program: The cost will generally increase with longer stays, as more treatments and services need to be paid for. However, some facilities offer discounts for longer-term lengths of stay, so it's worth researching all options before committing to a certain plan.

Location: The geographic area in which a priory rehab facility is located can also affect its costs. Generally speaking, urban places tend to have higher costs due to higher living expenses and local wages; rural areas typically have lower ones due to lower living expenses and salaries. Additionally, specialised programs away from home may cost more to cover travel expenses.

Special Services or Amenities: The overall cost could increase significantly if additional services or amenities are requested at a priory rehab centre—such as private rooms or massage therapy. It's important to consider all customer service options to find a solution that aligns with your budget and individual needs.
Summary
Priory rehab is a private care option that can vary in cost depending on the length and type of treatment plan.
Prices can range from £1,000 to £2,000 per week on average. This should be checked via the Priory site.
This cost includes therapies such as psychotherapy and CBT, as well as other amenities like meals and medication that may be part of the plan.
Whether or not the cost is worth it comes down to individual circumstances.
Understanding what's included in the price before committing to a rehabilitation package is important when considering private vs insurance treatment options.
If you would like to compare the cost of the Priory to our costs, please call us today and we can offer help and support.